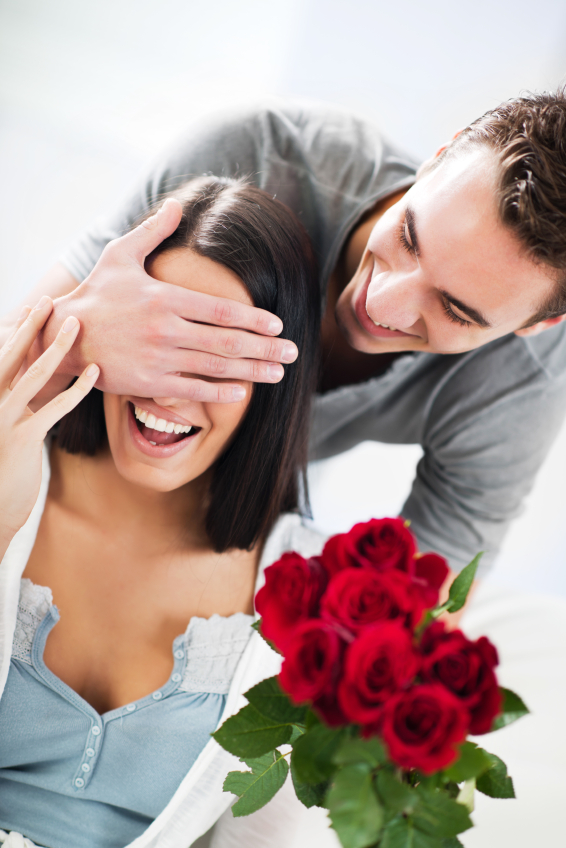 We will be publishing a series of posts and surveys about getting out of the doghouse, but I thought I would tackle the issue of romance in general.
Most guys can be somewhat aloof when it comes to romance, and during the course of a relationship it can be significantly reduced of forgotten completely.  We tend to spend our lives catching up these days, and one of the most important relationship tip I have ever received was to try to keep the romance alive.
Here are 5 things that have worked for me in the past: (In increasing extravagance)
1.  Add some romance to your nightly dinner (Extra Cost = $10-$15)
We tend to get into a groove that makes us rush around and forget about the little things.  Even if you have children, this one can work just fine if you set it up right.

Get home early one night, and if you have kids, get a babysitter, drop them off at your moms, or get a movie for them and prepare something that they really like for dinner.  This should give you and your spouse an hour and a half to two hours to be alone and have a nice dinner.  Make something for your spouse that they really like for dinner.  Add a bottle of wine.  A $10 bottle of wine and some candles can turn an ordinary dinner into a romantic one! (Make sure you offer to do the dishes, and run a bath for them with bubbles – When they get out, you may be in for a surprise!)
2.  Add a bouquet of flowers to your nightly dinner (Extra Cost = $25-$30)
Wouldn't it be nice if your spouse came home to the home cooked meal, the kids in the basement, occupied by a movie for a few hours with their favorite meal, a bottle of wine and some fresh flowers for her on the table.  A romantic card is a must!  When you get the flowers, make sure to either add a sappy card, or create your own on the card your florists provide with your order.
3.  Send a bouquet of flowers to their workplace (Extra Cost = $35-$60)
Even more romantic…  Send flowers to your spouse where they work.  Add a note to the card that tells them about the night they can expect!  A romantic dinner, relaxation and no worries for the rest of the evening.  This one really works, but you have to follow through when they get home!
4.  Plan a romantic dinner out (Extra Cost = $75-$200)
As soon as the two of you leave the house, you are now in for a  more costly evening, but if it means leaving the stress of work and home behind you, this may be the one for you.  Planning a quiet dinner out and just spending time together without your daily home chores and grind can really help you connect.  Be sure that you talk and listen during your dinner.  Spend the time to get to know each other, a little more, or again.
5.  Plan an eventful day (Extra Cost = Depends on what you do)
A few men will be mad at me for putting this one out there, but I am just trying to let some guys know what has worked for me.

Now this one takes a little preparation, but you will reap the rewards later, I guarantee it!

You start with flowers at her work.  I have taken them there myself, and I have had them delivered with special instructions to follow.  If you can manage it, weekday anniversaries and birthdays go over very well if you can talk to their boss and get them the afternoon / night off without them knowing.  I have heard people have sent limos to pick them up, but it's up to you and your budget.

Next, you give them instructions, or drop them off at a spa, where they can get whatever service they choose, or pre-book something for them, like a massage.  While they are in there, you take the time to make sure your plan is set for the rest of the evening.

Some things you can do at this point:

– Go for a nice dinner
– Rent a hotel room
– Rent a hotel room and order in room service and movie
– Plan it on a day an event is happening in your area (concert, art show etc)
These are just a few crude examples, but I think you can get the idea of where I am coming from.  The main thing is that you have to start with the will to do it and then create a plan that is tailored for you and your spouse's specific interests and needs.
Good luck!